Did you know that "Fender®" Tweed Amp covering material is actually twill by proper definition? It's also fabric & not vinyl, well, the good stuff is… (More on that later) Do you know that there are two primary types of genuine tweed used in music gear manufacturing? Fender style, which is coated yellow and Peavy style that has a dark, olive coloring.
We'll outline the historic usage, applications and installation procedures of one of the most iconic amplifier, guitar case and pedalboard textiles in history!
HISTORY:
Tweed is actually twill fabric by definition. The "Fender® Tweed" name somehow got coined during the introduction of the mid 40's era Dual Professional Fender amps. The tweed material was used on various other Fender Amp models until 1964. After an almost 30 year hiatus, they started wrapping tweed cabs again in 1990. Fender reintroduced the 59' Bassman Reissue then others like the Blues and Pro Junior. To this day, the tweed amp head and cab wraps are one of the most recognizable materials in the world! Site Source
The Peavy crew noticed a demand for something similar to the discontinued Fender Bassman, so in the early 70's, Peavy had several tweed covered tube amplifiers, one looking almost exactly identical to the now notorious Fender Bassman. Site Source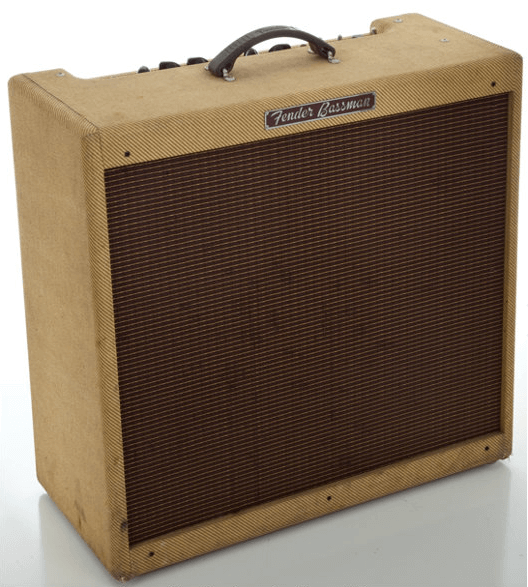 ---
MATERIALS & PARTS LIST:
TWEED COVERING, ENOUGH FOR YOUR SPECIFIC JOB – We sell our textile in a few optimal size formats for small & large jobs
SPRAY ADHESIVE – 1-2 CANS DEPENDING ON JOB SIZE
OPTIONAL: AMBER OR CLEAR SHELLAC and or colored alcohol based Aniline DYE for custom colors and burst options
REQUIRED WHEN USING SHELLAC or APPLYING COLORED DYE: Denatured Alcohol to dilute shellac and/or dye
There are only 2 real fabric TWEED materials that we use. If your planning to wrap a pedalboard, amp cab, head or anything really, we encourage you to use genuine fabric. Not only is it easier to install, but the coloring possibilities (we'll get into that in a bit) are virtually endless. ***We use and sell the Fender style version***
There is also imposter vinyl or tolex "print" that tries to look like genuine tweed, but it's not desirable at all and should be avoided like a punch to the family jewels!
The only other material or part component needed to install the fabric is adhesive. Depending on installer preference, will ultimately depend on the adhesive preference. We use a spray contact adhesive that has an excellent fan adjustment nozzle, it sets up fairly fast, its forgiving enough to recover from small errors and sticks like a BOSS when used correctly. Most importantly, it doesn't stain the fabric when applied correctly. That can be an issue with some adhesives because the material is a porous fabric and can bleed through depending on adhesive viscosity.
OPTIONAL: do you plan to color or clear coat the tweed after installation? If so, there are a few ways to do it and we'll cover those options in the dedicated COLORING section below.
Genuine Fender® Tweed
---
TOOLS:
J-Roller or similar to apply pressure for the contact adhesive bond to substrate, sharp utility knife with extra blades, possible a 12" carpenters square
Utility Knife with new sharp blades
Full face respirator
Optional: HVLP rig if your choosing to color or clear the tweed
---
COLORING & FINISHING:
Option 1: the easiest version is to leave the tweed raw or unfinished.
Option 2: coming in second most common finishing method, is to apply several light coats of clear or amber tinted varnish or shellac. The beauty of shellac is that it "melts" into itself coat after coat. So applying many light coats is the ideal method, this prevents runs and drips, establishes even coverage and the appropriate OEM method for finishing. This can be done 2 different ways:

if you are just trying to clear coat and/or, for small one time jobs: an aerosol can of clear shellac can be had for just a few bucks. The same techniques and principles apply to this method as well as if you were to use a HVLP rig described below. So, the follow those same guidelines and you'll be fine!
if your wanting that sweet amber tint, or if you plan to do several pieces, or one larger piece, a HVLP rig is usually the fastest and most effective way to go. That requires a decent and CLEAN top feed air spray gun, an air compressor that can easily maintain constant air velocity for accurate coverage, fading and or bursting and a respirator to protect against unwanted fumes and particulates. (Do check with your local city/state guidelines before spraying)

Option 3: bursting, fading, different color tinting
OPTION 2: FOR LARGER JOBS REQUIRING A HVLP RIG:
1. REQUIREMENTS: AIR COMPRESSOR, HVLP GUN, FULL FACE RESPIRATOR, GLOVES, PROTECTIVE CLOTHING, SHELLAC OR SIMILAR, OPTIONAL: DYE OR COLORING TINT IF GOING FOR A DIFFERENT COLOR
2. LIQUIDS, DYE & MIXING: MIX 3 PARTS OF SHELLAC TO 1 PART DENATURED ALCOHOL, YOU CAN STRAIN THE MIXTURE BEFORE ADDING TO SPRAY GUN. HOW MUCH MIXTURE DEPENDS ON THE PIECE. FOR SMALL THINGS LIKE PEDALBOARDS, HALF A QUART MIXTURE WILL USUALLY DO.
3. AIR GUN SETTINGS: WE PERSONALLY LIKE TO HAVE THE AIR PRESSURE SET AT ABOUT 80# ON THE COMPRSSOR, THEN FINE TUNE IT FURTHER ON THE GUN ITSELF. DIAL IN THE FAN WIDTH OF THE SPRAY NOZZLE. DEPENDING ON WHAT YOUR SPRAYING AND WHAT FINISH YOUR GOING FOR, WILL DETERMINE THE FAN WIDTH. FOR A GENERAL EVEN COAT WITH NO FADING, OR BURSTING A WIDE FAN IS PREFERRRED. WE NEED ENOUGH AIR PRESSURE TO ATOMIZE THE LIQUID MIXTURE INTO FINE ENOUGH PARTICLES THAT THERE ISNT ANY BLOTCHING OR SPOTTING.
3. TECHNIQUES: NOT GONNA LIE, GETTING THE HANG OF SPRAYING A PIECE EVENLY IS TRICKY. THE FIRST HURDLE IS HOW TO HANG IT, OR MOUNT IT SO YOU CAN EASILY MOVE AROUND THE PIECE ACCESSING ALL POINTS EASILY, OR BEING ABLE TO MOVE IT, SO YOU CAN EASILY ACCESS THEOSE POINTS.
I SUGGEST A TEST PIECE AT FIRST JUST TO SEE HOW THE SPRAY GUN PROCEDURE AS A WHOLE, REACTS. SEE HOW THE FAN COVERS AND HOW QUICKLY YOU NEED TO MOVE THE GUN WITH YOUR SELECTED AIR SPEED AND LIQUID MIXTURE. I WOULD SUGGEST MOVING THE GUN MODERATELY FAST AS TO NOT LOAD UP MATERIAL ON A GIVEN SECTION; USUALLY THE EDGES AND CORNERS. MOVING THE GUN CLOSER AND FURTHER AWAY CAN ALSO HELP MODERATE MATERIAL BUILDUP. LIGHT COATS ARE KEY!!! THE COATS WON'T NEED TO 100% DRY BEFORE ADDING ANOTHER COAT EITHER, YOU JUST DON'T WANT THE MATERIAL TOO HEAVY WHERE IT STARTS TO DRIP/RUN.
Option 3 : Bursting/Fading/Color Tinting
1. GENERAL INFO: ALL THE SAME INSTRUCTIONS APPLY TO THIS METHOD, THE ONLY THING WERE GOING TO DO DIFFERENTLY IS CREATE A NEW COLOR OR AUGMENT THE TINT. IF THE COLOR IS OF THE RED, BROWN HUE, YOU CAN USE THE AMBER SHELLAC AS THE BASE AND MIX THE NEW COLOR IN WITH THAT. THIS WORKS REALLY WELL IF YOU PLAN TO FADE OR DO A GENTLE BURST. IF YOU WANT A SPECIFIC TINT COLOR WITHOUT THE AMBER BASE, THE CLEAR SHELLAC SHOULD BE USED AS THE BASE. YOU'LL USE THE SAME 3 PARTS BASE 1 PART DENATURED TINTED ALCOHOL with ALCOHOL-SOLUBLE ANILINE DYE. FIRST, WE'RE GOING TO MIX THE ANILINE DYE INTO THE ALCOHOL AND LET THAT SIT FOR 24 HOURS. WE WANT ALL THE COLOR DYE TO DISSOLVE PROPERLY. YOU CAN STRAIN THE MIXTURE AS YOU POUR INTO THE SPRAY GUN TO REMOVE ANY SOLID PARTICLES.
2. TECHNIQUES: THE PROCESS DOESNT CHANGE FROM OPTION 2 IF YOUR JUST CHANGING THE COLOR. THE PART THAT WILL CHANGE IS WHEN BURSTING AND FADING. THEY WAY WE DO IT IS USING GENTLE FADES BUILDING UP CONTRASTING OR SIMILAR COLORS THAT BLEND INTO ONE ANOTHER. YOU CAN USE SEPARATE COLORS TO ACHIEVE THIS, OR THE SAME COLOR AND JUST ADD EXTRA LIGHT COATS ONTO THE EDGES, CORNERS TO ACCENT AND SIMULATE COLOR CHANGE. THE FOLLOWING EXAMPLE WILL DEMONSTRATE USING TWO DIFFERENT COLORS FOR CONTRAST.
START BY MIXING THE TWO COLORS AND TESTING ON A SAMPLE PIECE TO ASSURE THE CORRECT DYE MIXTURE
EVENLY SPRAY THE BASE COLOR COAT, THE LIGHTER OF THE 2 COLORS FIRST. WE WILL HAVE THE FAN SPRAY SET WIDE TO GET EVEN COVERAGE, THEN LET ALMOST DRY.
START THE BURST OR FADE COLORING WORK. I'LL USUALLY TURN DOWN THE AIR PRESSURE ON THE GUN, AND REDUCE THE FAN SPREAD TO GET A MUCH SMALLER AND PRECISE AREA OF SPRAY. AGAIN, ALWAYS TEST YOUR SETTINGS ON A SAMPLE PIECE IF YOUR NOT FAMILIAR WITH THE PROCESS.
TAKE YOUR TIME WITH THIS PROCESS, ITS NOT SOMETHING TO RUSH, MAKE MANY LIGHT PASSES VS FEWER HEAVY PASSES.
PROTIP – IF YOU ARE DOING A 2 PIECE CASE, YOU'LL MOST CERTAINLY WANT TO ORIENT THE 2 CASE HALVES HOW THEY WILL BE FASTENED TOGETHER SO YOU CAN FINISH SPRAYING THEM AT THE SAME TIME; THIS WILL ALLOW YOU TO FADE OR BLEND THE COLORING IN EVENLY ON ALL FOUR SIDES. THIS MEANS YOU SHOULD START THE BURSTING ON THE VERY TOP AND BOTTOM OF THE CASE HALVES AT FIRST. ONCE IDEAL COLORING IS ACHIEVED IN THAT POSITION, LAY THE TWO CASE HALVES TOGETHER AND FINISH THE COLOR FADING/BURSTING. WE ARE GOING FOR A NICE EVEN FADE OF COLOR, THIS PROCESS IS THE ONLY WAY TO DO IT!
BUILD STEPS:
OBTAIN THE PROPER AMOUNT OF TWEED MATERIAL REQUIRED FOR THE JOB
SOURCE ANY OPTIONAL MATERIALS SUCH AS SHELLAC OR DYE
HAVE ALL THE INITIAL WOOD WORK/PREP ON THE WORK PIECE CLOSE TO, OR FINISHED
MAKE SURE ALL IMPERFECTIONS IN THE WOOD ARE FILLED PROPERLY THEN SANDED SMOOTH
MAKE SURE THE WORK PIECE IS 150% CLEAN FROM DUST, DIRT, GRIME, OILS
INSTALL TEXTILE
LEAVE RAW OR PROCEED TO TINT
LET SHELLAC DRY, IF APPLIED
FINAL ASSEMBLY
---
VIDEO GUIDES
How To Clear Coat or Amber Tint using Shellac – Video – Coming Soon
How to Burst dem Shits – Video – COMING SOON
---
Tweed Pedalboard
---