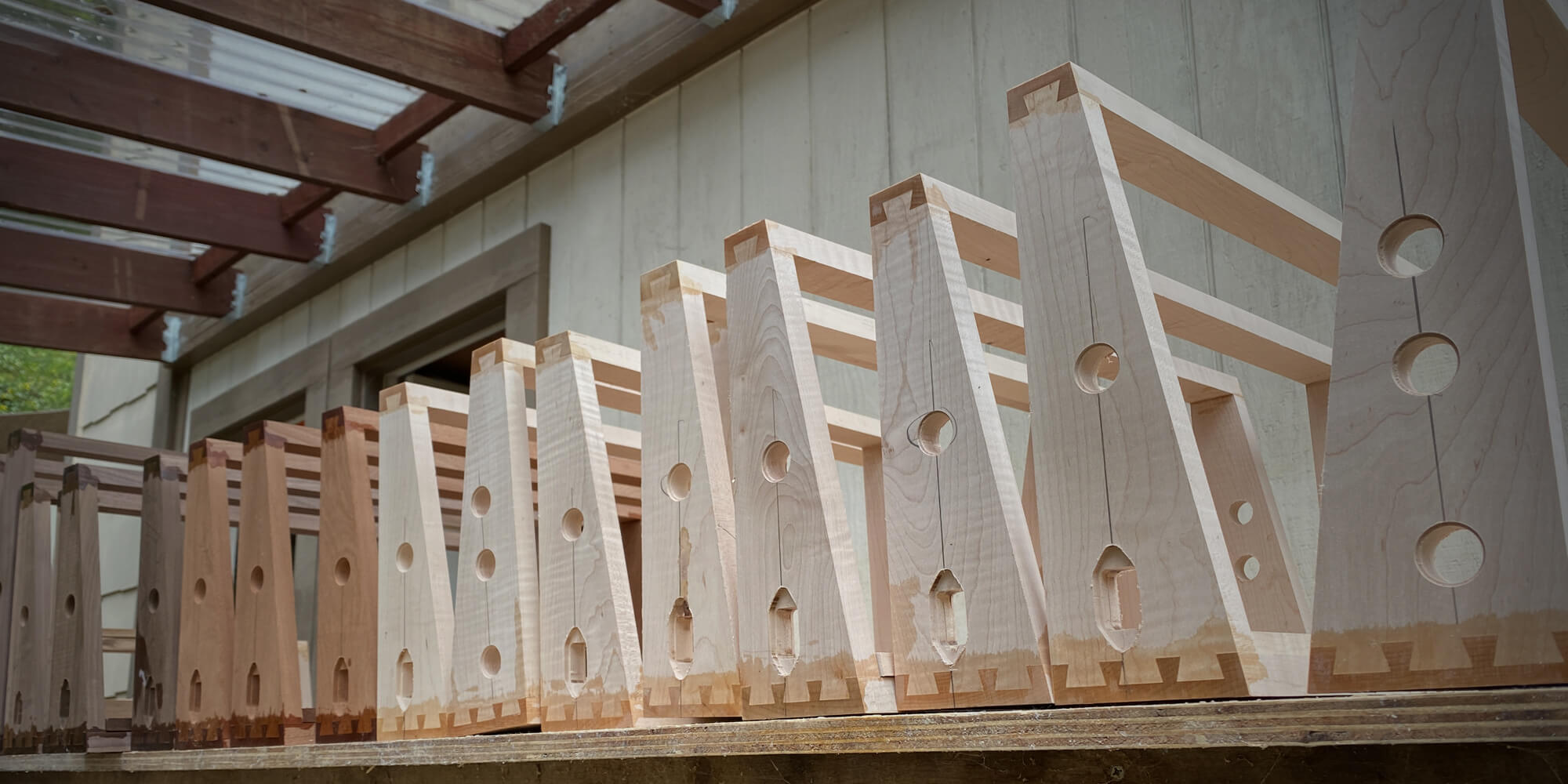 About Us
Learn more about West Coast Pedal Board, contact us, check our frequently asked questions, and view our policies
From our official start in early 2012, we've hand built all of our gear in Northern California. Offering various styles of boards, cases and pedalboard accessories for all levels of players, world wide. We source as many components and materials from the United States as possible.
Our Custom Shop features real Customizable options that enables you to build your personalized dream rig! Choose many different options and start creating the pedalboard you've always wanted now. Our Standard Line allows customers quick and easy access to our most popular features with just a few click.
West Coast Pedal Board builds hand made, boutique quality gear for everyone. Our goal from the start is to design, build & sell equipment that you will be proud to have in your gear collection. Integrating style, innovation, function and great looks into a durable, lasting product is what we're about. We appreciate the opportunity to build for you!
Spence
Q: Why should I purchase a West Coast Pedal Board?

A: Because you need a pedalboard. And we make pedalboards!

Q: What is the difference between the Standard Line and Custom Shop?

A: Custom Shop is mainly for clients who want need details and/or functionality that needs to be very specific.

Q: What are the dimensions of your boards?

A: 12″ Deep X 18″,24″ Wide X 4.25″ Tall and 16″ Deep X 28″,34″ Wide X 4.25″ Tall

Q: Can I add just one extra feature to the Standard Line?

A: Yes, just call in and ask.

Q:Can I order a custom size that isn't listed on the website?

A: Of course, you'll have to call into the shop, 707.836.7440

Q: How heavy are the boards and what are they made of?

A: All tolex boards and cases are made from Baltic Birch ply.
Apprx. Weight: 18″=5# | 24″=6# | 28″=8# | 34″=10#

Q: How long until I receive my order?

A: Each product has an estimated date of shipment listed on the product page itself. We're pretty good at nailing those timelines but make sure to plan ahead. We get super busy during the holiday season and do sometimes take time off. Some Custom Shop designs can take longer, an accurate estimate of time will be made during the ordering process.

Q: How do I get a Custom Shop build started?

A: Call Spence at 707.836.7440

Q: Do you offer pedal board cases?

A: Yes, 3 types; light duty double padded soft cases, medium duty case wrapped in tolex or tweed and the heavy duty road worthy cases.

Q: How do I know what size board I need?

A: Lay all your pedals out the way you plan to install them. Take a measurement of the length and width and order the correct size board.

Q: What options can I order on my Custom Shop rig?

A: Most every option we have available is listed on our Custom Shop page.

Q: What is the best way to secure the pedals to your boards?

A: All West Coast Pedal Boards come with Super Loop, a superior velcro style product that never frizzes or looses grip. Attach any type of pedal to the board using the hook side velcro, and it won't come off unless you want it to. Make sure to clean the pedal surface of dirt and even rubber bumpers for the best adhesion. Removing feet and or access doors for batteries is a common practice.

Q: What types of instrument and/or patch cables do you offer?

A: We hand make all cables in house using premium components from Mogami, GnH and Switchcraft.

Q: How can I power my pedals?

A: Take a look at our power supply section! We offer the industries best products. If you need assistance choosing, call or email for some extra assistance!

Q: I saw a DIY section on your web store, whats that!

A: There are many super handy folks that need a few parts to put their own pedalboard together. We have put together the worlds best selection of DIY pedalboard parts; offering free phone or email advice, technical support and instructional manuals and videos for our most purchased products.

Q: Can I see some boards in person.

A: Sure… Russian River Brewing is very close to us. We like Damnation..

Q: Why isn't shipping free on everything you guys sell.

A: I'm not too sure actually….

Q: What payments do you accept?

A: Visa, MC, Discover, AMEX, Cash, Check, Pesos, Chinese Yeng, Euros, Canadian Loonies and Toonies, Gold, Silver, Titanium, and most anything chrome!

Q: Do you ship to other countries?

A: yes….

Q:What are your warranty details?

A: Check here…
Limited Warranty

West Coast Pedal Board warrants all pedal boards and pedal board cases sold for ONE (1) year after date of purchase against defects in workmanship or materials under normal use conditions; unless otherwise stated. Any product or part, which will be determined by West Coast Pedal Board to be defective in workmanship or material will be returned to West Coast Pedal Board, shipping cost prepaid by customer, will be, as the exclusive remedy, repaired or replaced, at West Coast Pedal Board's option. All other third party and/or electronic components will follow the particular manufacture guidelines for warranty. You can call or email us, or contact that manufacturer via phone or WWW for the details.

Warranty Disclaimer

No warranty or affirmation of fact, express or implied, other than as set forth in the limited liability warranty statement above is made or authorized by West Coast Pedal Board. West Coast Pedal Board disclaims any liability for product defect claims that are due to product misuse, improper product selection, or misapplication. Any product description does not express or imply a warranty that the products are merchantable or fit for a particular purpose.

Limitation of Liability

Any liability for consequential and incidental damages is expressly disclaimed. West Coast Pedal Board's liability in all events is limited to, and shall not exceed, the purchase price paid, NOT including freight or third party products.

Product Inspection

Customer shall notify West Coast Pedal Board within SEVEN (7) days of receipt of products regarding errors or omission in shipping, including but not limited to shortages in quantity, damaged goods and unacceptable substitution of goods. Upon the expiration of the SEVEN (7) day period, the products shall be deemed accepted by the customer.
We use many different shipping carriers and the reality is sometimes there is loss or damages. It's the most unfortunate outcome and I assure you that we prefer that your order arrives on time, without incident. Alas, that doesn't always happen so here is the fine print…

In the event that your delivery is taking longer then expected, not delivered, lost or mis-delivered, please read the following sections or contact us via phone immediately for assistance. Every order includes a tracking number at time of shipment, please due diligence and please track your own package. Once the items leave our shop, we have limited control of what happens from then on.

Taking longer to deliver then originally anticipated.

Due to world events, shipping times can vary WIDELY! Start by calling your respective local shipping providers office and see if they can help with the locating of the package. If they are of no help, which is often the case, please call or email us directly. In many cases, it will eventually show up, sometimes the services simply take longer then anticipated, and we have to excuse ourselves for other companies operating procedures. We can help figure out the best course of action.

Not Delivered or Lost

We are limited to what we can do on behalf of the shipping companies, when the shipment is not delivered, lost or mis-delivered by the carrier service. Our protocols can differ:

DIY Parts – we will usually replace the items originally ordered (depending on value and location of delivery) and send out using the shipping method our our choosing. If you would like some type of expedited service, please call in and we can usually make that arrangement. Additional cost may apply and would be due prior to shipment leaving our shop.
Boards/Cases/Custom Shop Builds – this is tricky, we are a small shop, in the event that the shipping carrier looses this type of package, an insurance claim will be made for the full value of your product(s), and we can either issue a full refund, or rebuild and ship the exact same product(s) from the original order if the insurance claim is approved. Claims can take a while, so please be patient with us during that time, we understand that it sucks, and you want what you have paid for (right-fully so), but we simply cannot fund shipping carrier fuck ups. We will work with you, and we will make it right!

Shows "Delivered", but you didn't receive it.

This puts us in a really hard spot. While we understand most people aren't trying to cheat the system, there are some that do and you can imagine what could happen if we didn't have the following clause. If the carrier shows as delivered, from our standpoint, the order is complete. Sorry to those of you experiencing a truthful loss. We suggest following your package during transit with the provided tracking info that is included and sent to your recipient email address attached to your original order.

Damaged During Transit

If your package and/or product happens to be damaged during shipment, please follow these simple guidelines. We will certainly need to be made aware promptly so we can start the ridiculously arduous claim process with the shipping carrier.

start by documenting with detailed pictures, the condition of the box, in almost all instances, a picture that includes the original shipping label will be required
take pictures of the damaged product(s) showing as best you can, the obvious physical damaged incurred during transit
the claim process can take a while and we will either start the replacement process or have to request that the claim be settled prior to product replacement. (this is usually the case on high value items such as custom shop builds) We're sorry to have to impose these claims, but the loss is not your fault, nor ours so working together to meet a satisfactory outcome is mandatory. We cannot however, take 100% blame for the misfortune of a third party companies lack of quality control. If you are unable to agree to these terms, please DO NOT buy anything from us. If you are unclear about these terms, please let us know PRIOR to any Purchase(s).

As always, if any of the information above is not clear, please call in and we can chat. We are a small company, so take advantage of the small business customer service we provide!

If you have any questions about these policies, please call in PRIOR to placing your order: 707.836.7440
To help avoid returns & cancellations, we offer personalized service to help make sure you're ordering what you want and need.  We are primarily a build-to-order company, meaning most pedalboards and cases are built to your specification, after the order is placed. We even have estimated timelines above each products price to help assist with timing. Due to the nature of ram material acquisition, these timelines can increase or decrease without notice.

Cancellations for pedalboard related orders are NOT POSSIBLE 2 weeks after original purchase date. Orders are subject to a 10% cancellation fee to help cover administrative and material allocation costs. If you are uncertain of the product(s) or what you're ordering, please call or email in and we can help answer any questions prior to the sale. We are a custom shop/built to order shop, so many of the items you order and buy, are made to your spec upon ordering, so returning "custom" items are not possible. If you need to find out prior to ordering which products are non-returnable, feel free to contact us directly. Since we are a build to order shop, specified build times can take longer; we do our best to keep things on-time. So…. build times are subject to change without notice, sorry!

Custom Shop builds are 150% Non-Returnable! Custom Shop builds in progress are not eligible for cancellation, not even 1 hour after the order is placed. A custom shop build is typically something not simply ordered from our webshop, but a custom piece that you called in to configure order.
Ready to Ship Builds are 150% Non-Returnable
Custom Cable orders are 150% Non-Returnable
New Board/Case orders are started and materials are allocated 1-2 weeks after the initial order has been made, so cancellation has to be approved in writing. After 2 weeks, cancellations are subject to approval in writing and usually involve a 25% Processing Fee to cover costs
Any original sale that qualified for free shipping destined for a return will be charged the originating shipping and associated costs of processing the order.
All returns subject to 25% restocking fee unless shipping damage has occurred or there is something wrong with the build quality, or, if we sent you the wrong item(s).
It will be to the sole discretion of West Coast Pedal Board, to either fix, replace or substitute any or part or piece of the shipment.
Prior to ANY return, a written authorization needs to be made and agreed upon prior to return, accompanied by the original sales receipt. Any and all issues need to be clearly written and documented so if a repair is needed, so we can accurately address those issues.
It will be under the sole discretion of West Coast Pedal Board to issue a refund or replacement for damaged, incorrect or items that are in need of repair.
Upon return, items must be packed and shipped properly. If damage occurs as a result of incorrect packaging, improper box size, inadequate packing materials etc, the return will be denied. If you need help with this, contact us for guidance prior to shipping.
All non shipping damaged returns have to be in 150% BRAND NEW CONDITION or a return could possibly be declined.

Definition of these terms and of new, unaltered and unused condition:

not a customer ordering error, needed a bigger size board, or want a different color, or change your mind after the order has been placed and/or shipped
without showing signs of wear or damage in any way, in other words, in BRAND NEW condition
claim made within 7 calendar days of the delivery date (after 7 days no returns are allowed)
cannot be a special order, Custom Shop build or any other purchase requiring expedited shipping on our part. Unless there are manufacture defects or shipping damages, these items are non-returnable.
unless noted, that it cannot be returned or has a different return policy time period other than that 7 days noted in that item's particular item description.
any Clearance items, Flash Sale items, Custom Shop items or anything sold or marked as B-Stock or the similar, are non-returnable or exchangeable.
If there was no physical damage caused by improper shipping &/or handling, the cost of the return shipment, as well as the replacement items shipping cost will be incurred by the customer unless otherwise arranged in writing. These costs will be paid in full prior to any shipment of new or replacement goods.Refunds and Exchanges are contingent upon inspection of original item(s) once we receive it.

There is a 25% restocking fee for returned items that are not being exchanged and are not damaged. All shipping charges are also the customers responsibility if an exchange is not elected. If your order qualified for free shipping, those fee's will also be deducted. If a wrong part is sent, we will cover all shipping charges associated with proper replacement should you elect for a replacement. We will need to recover the wrong item prior to any replacements being sent out. Again you MUST contact us within 7 days if you intend to return ANY item back to our store. Items returned to us AFTER 7 days and WITHOUT contacting us will NOT be refunded.

If an item is received damaged or is incorrectly shipped by us, please contact Customer Support at (707) 836-7440 immediately. In the event that the item is damaged during delivery, we will need pictures showing the damages of product(s), the condition of the box and packing materials. KEEP THE BOX AND ALL PACKING MATERIALS!! The claim process can sometimes take a while, during the claim process, we will work with you to resolve the issue the easiest and quickest for everyone. If you are an international customer, the process can take a couple extra weeks for resolution, and typically, damaged products will need to be returned at the customers expense for repair. Sorry, I know this sucks… This expense typically gets re-imbursed through the claim process, if claim is approved by the shipping carrier at fault. If product(s) are damaged beyond repair, a new item will be sent, without a damaged goods return process. Timing for a replacement can vary, specially if its a Custom build and will be handled on a case by case basis, in writing.